If you're moving your stores to a different Gooten account, you have the option to disconnect your integrated stores from your current Gooten account and move them to a different Gooten account. We also allow you to unpublish your products from your store.
Disconnect my store
Disconnecting your store will remove your store from the Gooten account. If you reconnect your store to the same Gooten account in the future, your current products will automatically repopulate.
1. Navigate to the store that you want to disconnect in your Product Hub.
2. Select the "Log Out: YourStoreName" button in the top right.
For Etsy Stores
If you log out of your Etsy store in your Gooten account, none of your products will be affected. They will still be available in the Hub and remain connected to Gooten so they can be fulfilled once your customer places an order.
In order to entirely disconnect your store and the products, please reach out to our Partner Support Team to completely remove your Etsy store from Gooten. Once our team disconnects your store and transfers it to a new account, your products will no longer be available, and you will need to recreate them from the beginning. This action removes all of your store's products and data from our database and cannot be undone.
For Shopify Stores
In order to entirely disconnect the store and the products, you would need to log out of the store and then remove our app from your Shopify admin. That will result in all of the products being disconnected from Gooten.
Please note that removing our app from your store can't be undone and if you want to start offering Gooten products again, you would need to recreate all products with us from scratch.
Connect your store to a different Gooten account
After disconnecting your store from the original Gooten account, simply log into your other Gooten account and connect your recently disconnected store.
1. Go to the Stores page and click on the Connect new store button.
Alternatively, you can connect your store within the Product Hub page as well.

2. Choose the type of store that you want to connect.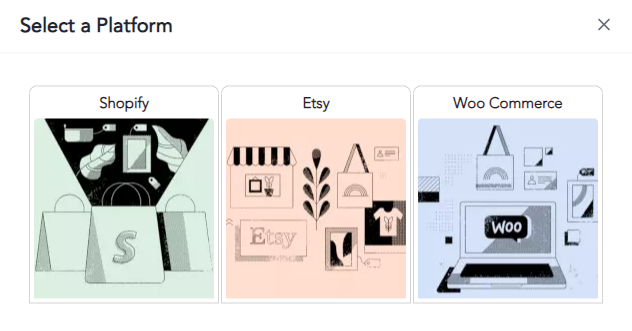 3. Enter the store URL that you just disconnected previously and proceed with connecting your store to your Gooten account.
Please note that your store may still need our Gooten plugin installed before connecting.