Printing with small print and fine lines
When creating designs for your print-on-demand products, you'll always have to consider the level of detail in your designs. You might run into scenarios with smaller prints and fine lines where your printed products result in illegible text or lines.
Since your print is made-to-order, we always recommend you order samples of your designs so that your printed products meet the expectations of your original design.
How do we ensure high-quality products at Gooten?
Gooten provides consistent, high-quality products.
Our team has developed specific practices and policies to ensure that our products are printed to meet the highest quality standards. We work with the best-in-class manufacturers to implement a quality control process that uploads the integrity and detail of your original design printed on our products.
Gooten strives to support our partners by providing detailed information regarding how different designs will look when printing with smaller prints and more refined lines using our Direct to Garment, Dye Sublimation, and UV Inkjet printing process. Our intuitive image editor makes it easy for you to design your products.
We have reference documents that can be used to understand how to properly create designs with smaller prints and more refined lines and what can be expected in terms of output when using these techniques. These documents feature digital test images with various design elements that can be used to visualize print results across Direct to Garment, Dye Sublimation, and UV Inkjet products.
Design tips & tricks for small print and fine lines
Technique | Direct to Garment Printing
Our manufacturers recommend that your lines or text not be thinner than 10 pixels wide. This provides you with the best print quality consistency.
Avoid using fonts smaller than 10pt can possibly result in illegible lines or text.
Avoid black print on red shirts, as there might be signs of ghosted or faded design elements on the garment.
There shouldn't be issues printing any size copyright symbol even when no under base is needed.
White print can be printed only on any colored shirt, and Black print can be printed on any white-colored shirt.
Note that there is a slight loss of detail when printing black on black/red as the copyright symbol gets smaller.
Please be careful when designing lines close to each other for line art. The closer the lines get to each other, the more they blur together when printed.
Technique | Cylindrical Printing
For pint glasses, we recommend not going lower than 7pt for font sizes and above 0.25pt for arrows. Anything below 7pt starts to become barely legible. For arrows, a 0.25pt stroke appears to print fainted.
For viking tumblers, we recommend using larger pt sizes.
The smaller the pt size, the more unrecognizable the copyright symbol becomes.
The font size for text becomes blurry the smaller it gets when it is bolded vs. not bolded.
The thinner the lines are for line art, the closer together the design becomes, which results in issues.
Designing for small print and fine lines
What to expect with DTG prints | Sample 1
The digital image examples below feature design elements with different sizes and thickness in font, lines, symbols, and arrows on various colored garments.
For our DTG printed products, we've printed this digital image on black, white, columbia blue, red, and athletic heather colored garments. We've used the Bella + Canvas 3001 CVC SKUs for this print test. We tested various points and thicknesses for the following categories:
Font size range between 10pt - 240pt
Line thickness/stroke width ranges from 0.5pt - 1pt
Copyright symbols sizes range 0.125" - 0.625" diameter
Squares with arrows size range from:

The smallest size: 2.375" x 2.375"
The medium size: 3" x 3"
The biggest size: 3.5" x 3.5" Please note that the samples are printed in black and white ink across multiple colors. This shows the contrast in color printing with small print and fine lines.
Printed samples on various garments
| | | |
| --- | --- | --- |
| Bella + Canvas 3001 with a white print on a black garment | Bella + Canvas 3001 with a black print on a white garment | Bella + Canvas 3001 with a white print on a red garment |
| Bella + Canvas 3001 with a white print on an athletic heather garment | Bella + Canvas 3001 with a black print on an athletic heather garment | Bella + Canvas 3001 with a white print on a columbia blue garment |
What to expect with UV Inkjet Cylindrical Prints | Sample 2
For our cylindrical products, we've printed this digital image on a clear pint glass and viking tumbler. We tested various points and thickness for the following categories:
For pint glasses:
Font size ranges from 7pt - 60pt
Line thickness/stroke width ranging from 0.25pt - 1.75pt
Copyright symbols size ranging from the following sizes:

The smallest size: 0.03in x 0.03in
The biggest size 0.25 in x 0.38in
For viking tumblers:
Font size ranges from 7pt - 38pt
Line thickness/stroke width ranging from 0.25pt -1.75pt
Copyright symbols size ranging from the following sizes:

The smallest size 0.03in x 0,03in
The biggest size 0.25in x 0.38in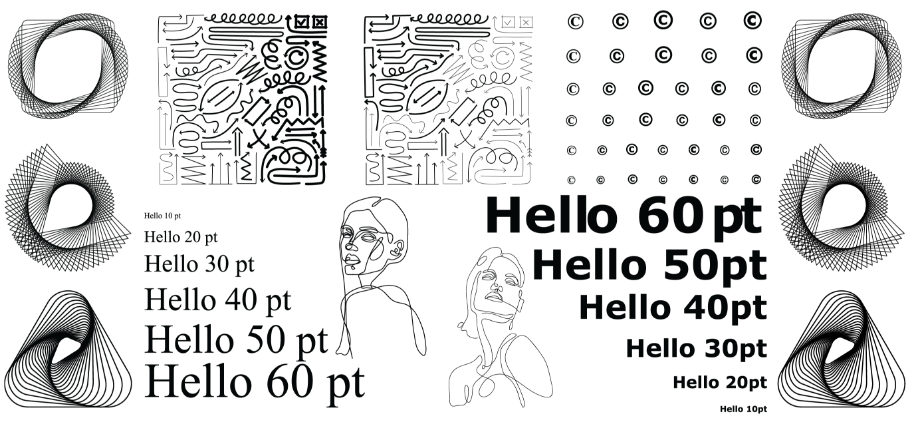 Printed samples on a clear pint glass
Printed samples on a viking tumbler
What to expect with Dye Sublimation Prints | Sample 3
For our dye sublimation products, we've printed the sample digital images on a tea towel, minky blanket, and mug. We tested various points and thicknesses for the following categories:
Font size ranges from 18pt - 150pt
Line thickness/stroke width ranges from 0.25pt - 8.9pt
Copyright symbols size should range from the following sizes:

The smallest size 0.24in x 0.25in
The biggest size 0.99in x 0.99in

Squares with arrow size ranging from:

The smallest size 2.95in x 2.98in
The biggest size 4.25in x 4.25in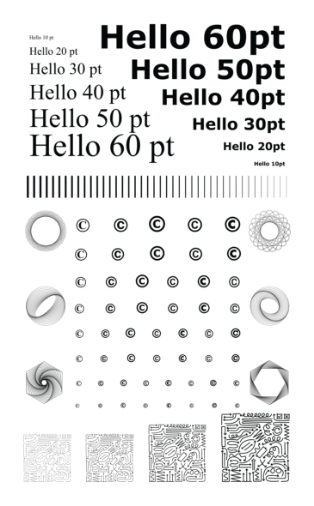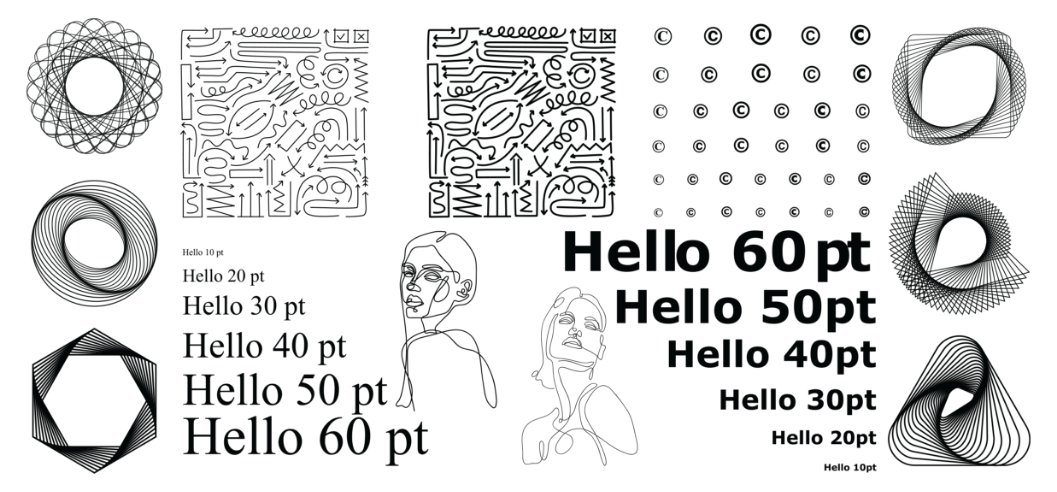 Printed Samples on a Tea Towel
Printed Samples on a Minky Blanket
Printed Samples on a White Ceramic Mug