Shipping doesn't have to be a hassle. We've broken down the costs, types, delivery time, and labeling information so you know what to expect.
Overview of costs
Shipping prices are calculated based on the customer's location and the shipping method you select when placing the order. In general, the shipping cost combined with the item cost equals the total cost for your order.
Please be aware that our shipping is not just a standard ordinary shipping service. Our shipping includes a myriad of other services such as packaging, fulfillment, and general shipping costs.
Gooten shipping starts from packaging your products straight from production to fulfilling your orders and then ends with shipping your orders to your customers. Our Gooten shipping provides you with quality service to improve your lead time and create happy customers. With this in mind, our shipping costs typically include all of these services to ensure the quality and integrity of your orders.
We offer flat shipping for a number of our products, including apparel printed in the US. You can also view shipping costs per product and location by downloading the price list for the product in the Product Catalog in the Gooten Admin.
If you are using Shopify, please check out this article to learn how to configure your shipping costs.
If you're using our API integration, you'll be able to pull shipping cost estimates through our API for each order. Check out our documentation here to learn how to implement this for your site.
If you're selling on Etsy or submitting orders via our Custom Order Form, you'll be charged shipping on a per order basis, and you will be able to select the shipping method.
Shipping details
The way we charge shipping differs from product to product depending on the following parameters:
Vendor location (where the product is printed)
The carrier used
The shipping method selected
Shipping destination
Shipping is primarily calculated based on the box items that the products are shipped in. Boxes will hold a certain number of products, which means there is a specific weight per box. Our shipping fees are based on this "box rate" calculation, unlike products that include flat shipping.
If you're ordering products and shipping them within certain US territories, they will also have different pricing and shipping times. These US territories include Alaska, Hawaii, Puerto Rico, and the US Virgin Islands.
We suggest you consult our product pricing list in the Product Hub for estimated shipping rates when deciding what to charge your customers for each product.
If an order is printed by different vendors (for instance, your order contains a mug and a canvas wrap), you will be charged for two packages, as they are being shipped from two separate locations. Due to the nature of our relationships with vendors, You may use only our shipping account for delivering packages.
Flat shipping
Find out more about flat shipping here.
Global Fulfillment
Another factor you should be mindful of when selecting the products you wish to offer is where your target market is located. Choosing products that are manufactured closest to your end customers means reduced shipping costs. To find out where products will ship from:
1. Navigate to the Product Catalog while logged in to your Gooten account
2. Hover over an item you'd like to sell and select 'Pick This.'
3. Select the regions you would like to ship to, and the available product variants for that region will populate below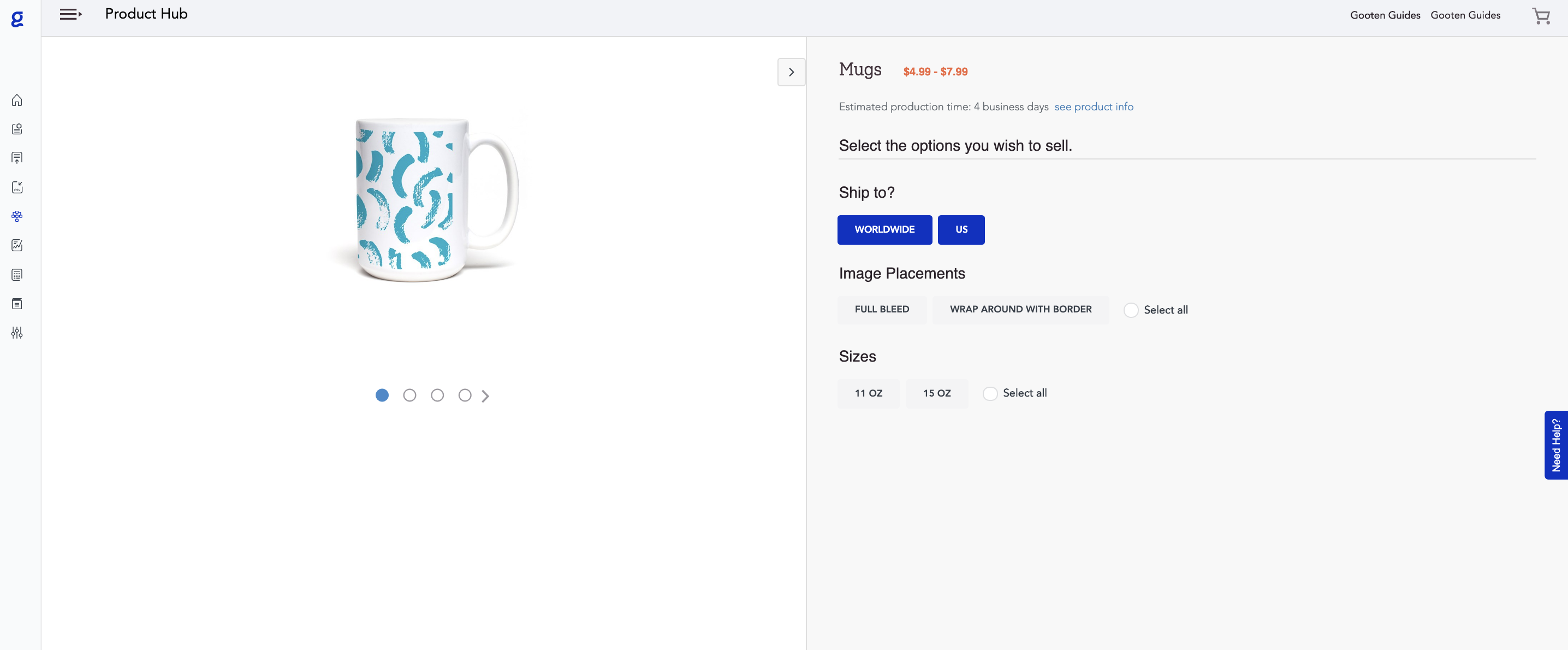 If you're shipping products internationally, please keep in mind that shipping costs are higher when sending US-based facilities. Delivery times are longer (it may take up to 30 business days due to customs delays), and not all products have consolidated shipping when shipping internationally.
The correct format for shipping addresses
Our manufacturers accept up to 35 characters per Address Line, and all addresses need to be submitted in the English alphabet. Please note that Gooten is not responsible for covering the costs of a replacement order if the address is not submitted properly.
Please double-check the shipping address to ensure it is correct.
Additionally, we suggest filling in both Address Lines 1 and 2 as the more details the address has, the more likely it is to be delivered to the proper address.
Shipping to military addresses and PO Boxes
If you want to place an order for a military address, you may do this by placing the order via a CSV file.
CSV upload is currently the only way we can fulfill orders for military addresses. To see how it works, please check out this article.
IMPORTANT: Please place APO, FPO, or AE in the state column
Please bear in mind that APO/AE/FPO shipments are considered international shipments and may take upwards of several weeks for delivery due to customs and military mail processes.
Shipping times
The transit time for each order depends on the shipping method chosen at the checkout. Gooten currently offers standard, expedited, and overnight shipping for most of the products shipped to the US and standard for most international orders.
The production time is not included in the shipping time estimates. Shipping time is when it takes for the item to be shipped, whereas the production time is the time it takes to print the product before shipping.
Estimated Shipping Times
Please note that there may be variances in ship dates and these times are subject to change.
Domestic Shipping times
Domestic shipments in the US territories may take up to 12 business days in transit are usually delivered within this timeframe.
International shipping times
International shipments may take up to 30 business days in transit but are usually delivered within 1-4 weeks from the ship date through DHL.
We have also experienced instances where an order may take upwards of a month to deliver. Not all tracking events may be represented in real-time, and this causes a shipment to appear stalled at a particular place/event. There are also other factors beyond our control that may extend the delivery window, including but not limited to:
• Packages being handled by multiple carriers, when handed off to local carriers
• Local customs department processing time
For these reasons, we are unable to guarantee a delivery date with certainty for international deliveries.