Let's take a look to find out how your products are packaged and what happens with international packages!
Packaging types
Most of our orders are poly-bagged. You can check the packaging type in our product catalog: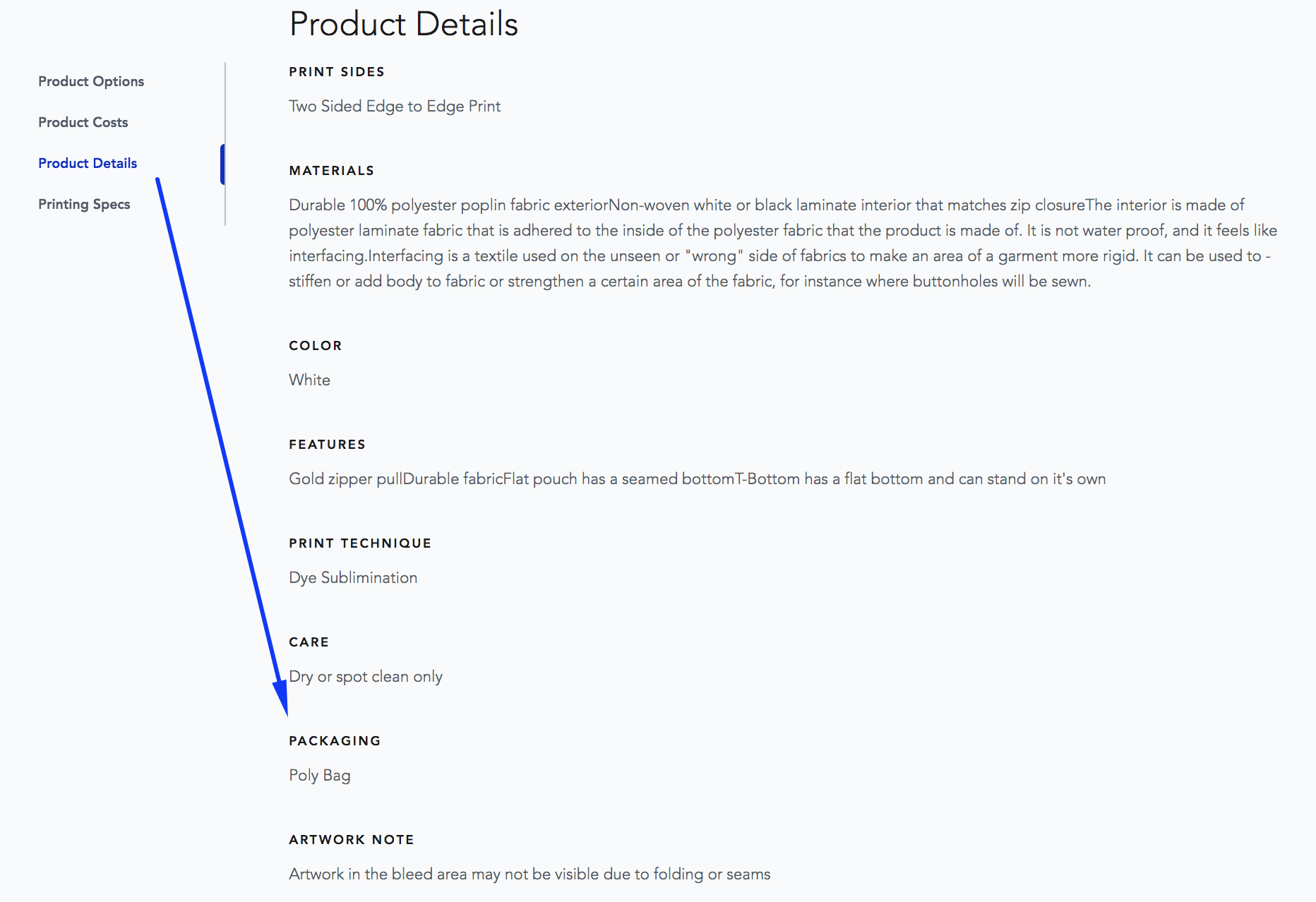 Separate packages for orders
Each order is shipped as submitted and we are not able to consolidate multiple orders into one shipment.
If you are ordering products from the same vendor and the products are submitted under one order number, those products are likely to be shipped together.
However, please note that sometimes even the items from the same order won't be sent together. This can happen as we work with multiple manufacturing facilities and not all items are produced in the same place. Items that arrive in multiple packages should all be delivered in the same 2-3 day window.
We recommend you to make it clear on your website that orders are not guaranteed to be delivered together as they may come from different print locations.
Return label on packages
If your business is located in the US, the address you entered under your general settings is automatically used as a return address for the following products:
Black Mugs*
Business Cards
Die Cut Stickers
Flat Cards
Folded Cards
Hoodies (adult and youth sizes)*
Long Sleeve Shirts*
Metal Magnets*
Mugs*
Onesies*
Pin-back Buttons
Posters*
Sweatshirts*
Tank Tops*
T-shirts (adult, youth, and toddler sizes)*
* This doesn't apply to all the SKUs from the products
If the product or SKU you offer in your store is not on this list or your business is not located in the US, the vendor's address will be used.
All packages that use the vendor's return address are grey labeled. The return label will use "Print Lab" or "Print Shop" as the business name.
Declared value on international packages
Orders fulfilled through Gooten and shipped to an international destination can have one of two declared values:
The production cost of the product (which is typically the lowest cost and doesn't correspond with the price you charged your customer)
The average retail cost of the product (which is the price we generally tend to use when declaring customs value).
What cost will be declared depends on the jurisdiction the package it is being shipped out to, as each country has a specific set of rules that deal with this particular topic.
We support shipping to over 170 countries and 140 products and we rely on our vendors and shipping agents to declare the value in accordance with the rules of the destination country. That being said, Gooten has little to no control over the value that's going to be declared on the package, as that is handled by our vendor network and shipping agents. Unfortunately, we can't accommodate requests to declare a specific value on packages.