Connect my Shopify store
Connecting your Shopify store is quick and easy. Please follow the steps below:
Download the Gooten app via the Shopify apps store.
This will take you to the installation page. Sign in to your Gooten account and proceed with the installation.
To add the store via the Gooten platform, go on your 'Hub' page and click the add button.

Then you can add your myshopify.url in Gooten and hit submit for installation.

This can be done for however many stores you want to install, but please note that one Shopify store can only be connected to one Gooten account.
Additionally, check out our brief tutorial video:
Gooten requires you to disable your pop-up blocker when you're trying to connect your Shopify store with us. As the installation button will prompt a pop-up window to appear. Once you connect your store, you can turn the pop-up blocker back on. You can find instructions on how to disable the pop-up blocker
here
.
Create new products
Once your store is connected to Gooten, you can start creating new products in the Product Hub.
Start by clicking on the Add New Product button, and work your way through the Product and Design pages, until you get to the last step at the Save and Publish page. This is where you will be able to edit the product name, description, SKUs and product prices before publishing the product to your Shopify store. For more details, please check out the following video tutorial:
Add new variants
If you want to add new variants to an already existing listing in your Shopify store, please follow these steps:
In Shopify, create/add new variants to sync to Gooten. Shopify has a video tutorial that explains the process, and you can find it here.

After saving those newly created variants, go into your Gooten Product Hub for that store, click on the Shopify tab and then click on the Sync Product button.


Select to sync a product name you edited in your store


Select the product you are connecting to Gooten


Select the SKUs you want to connect to your new variants. Repeat for each of the variants or you can use the Skip option if you want to leave any of them out of the syncing process

Once you've connected the variants, click on Continue to upload artwork to design the product and go through the rest of the syncing process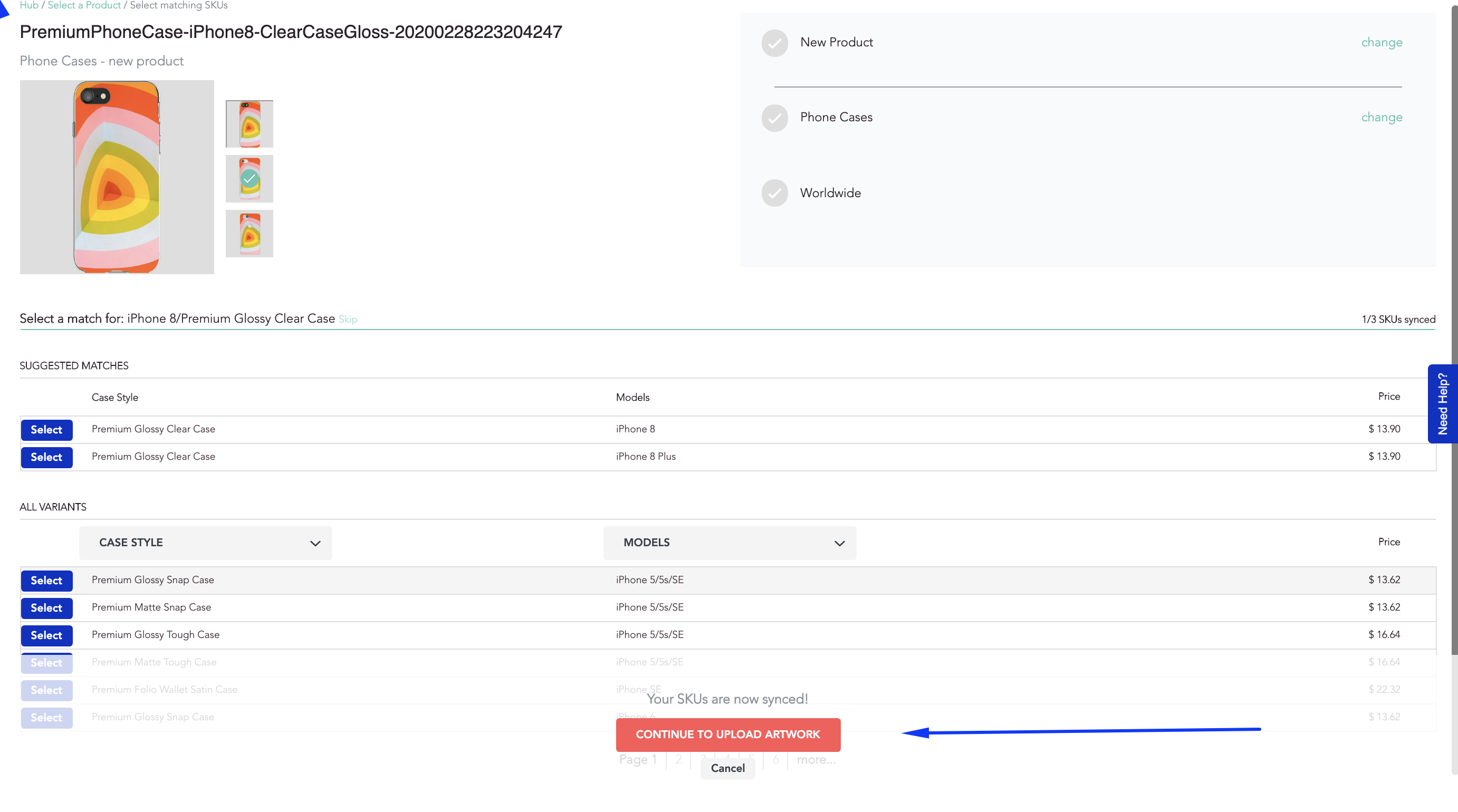 To see our short video tutorial about syncing your existing products, please check out the video below:
Shopify allows up to 100 variants within a product and 250 images associated with a given product. Please check out this article for additional information.
Edit products - Gooten vs. Shopify
You can change the name and the description of the product in your Shopify store directly or by editing the product in Gooten and going all the way to Publish page. However, editing the product options can't be done via the Hub and you need to adjust it in your store.
Additionally while editing, you can adjust the image in any way or you can add a new image altogether. The design page is all yours. But please note that you can't change SKUs, delete them or add new ones.
Use the Gooten app and Shopify Lite
Our integration works with all Shopify pricing tiers and most of our partners have the Basic Shopify plan. Since that plan doesn't allow for carrier-based shipping options, the best way to set shipping prices would be by weight or by the price of the product.
Unpublish or delete products and disconnect my store
Unpublishing all of your products
To unpublish all of your products at once, select all items on the page and click Unpublish. This action will hide the products from your store and they will not be available for ordering until you publish them again.
Note that even if unpublished, all of the products will stay connected to Gooten SKUs.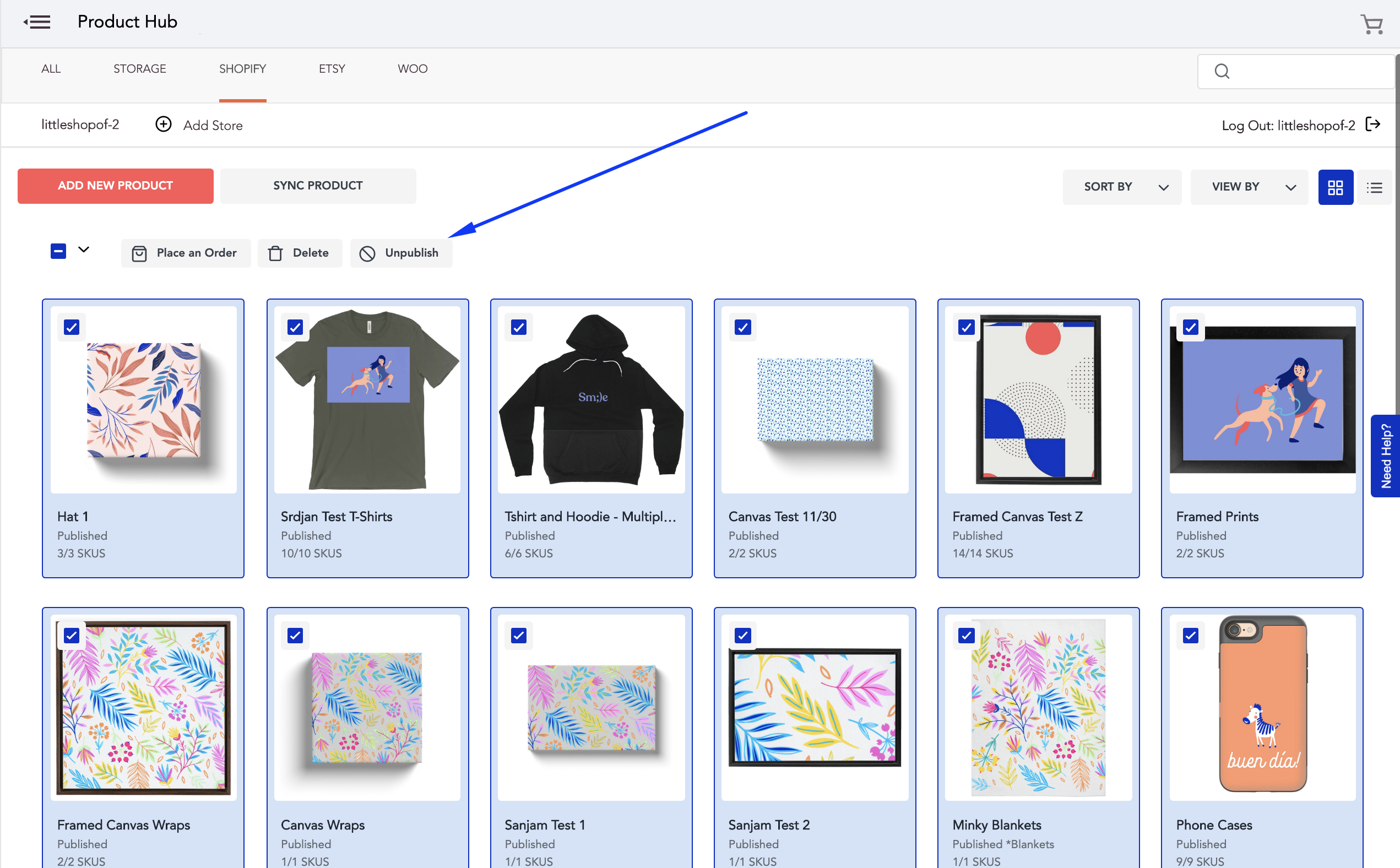 You can also unpublish one or a couple of products by selecting them individually.
Deleting all of your products
If you'd like to remove the products from your store entirely, you can delete them entirely, one by one or a selected few at a time.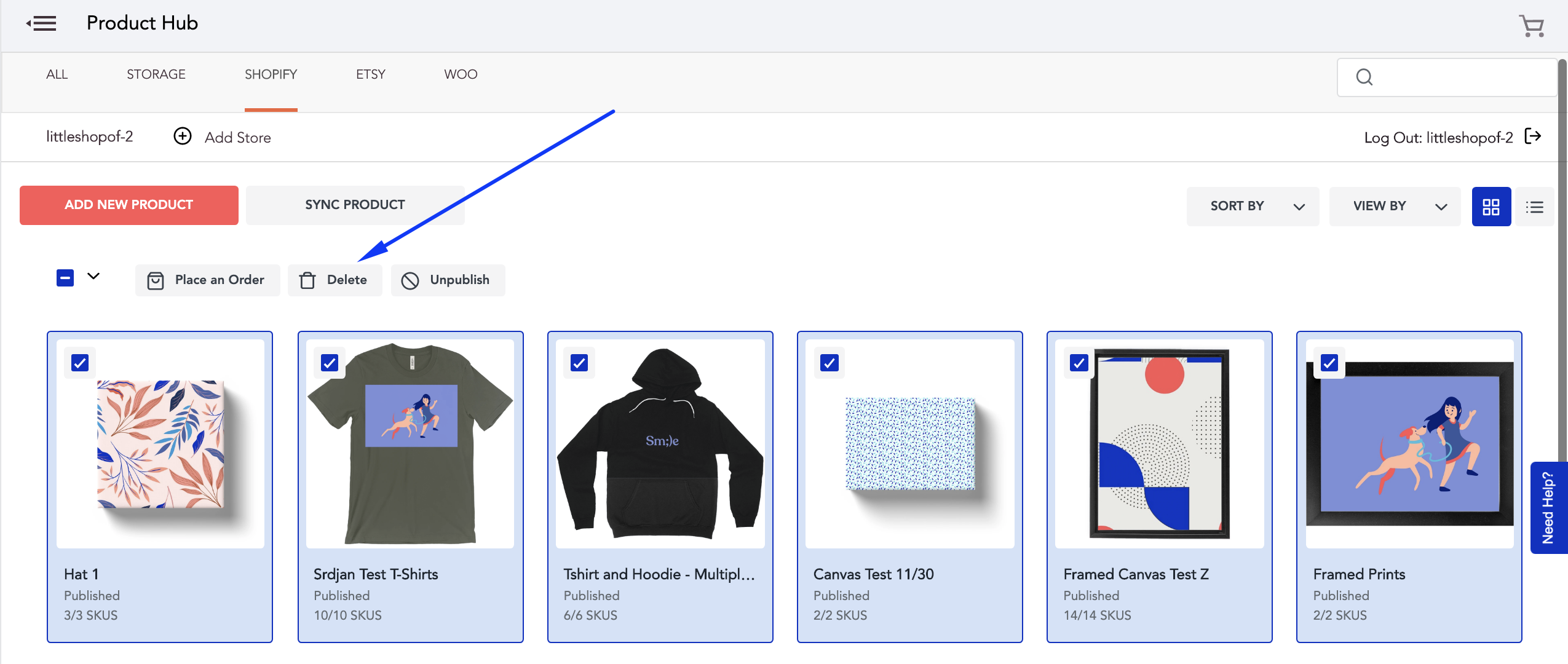 The Delete action is irreversible and once a product is deleted, it will disappear from the Product Hub and your Shopify store. The product cannot be synced to Gooten again and needs to be created from scratch.
Disconnecting your Shopify store
Select the "Log Out: YourStoreName" button on the top right. If you reconnect your store to the same Gooten account in the future, your current products will automatically repopulate.
In order to entirely disconnect the store and the products, you would need to log out of the store and then remove our app from your Shopify admin. That will result in all of the products being disconnected from Gooten.
Please note that removing our app from your store can't be undone and if you want to start offering Gooten products again, you would need to recreate all products with us from the beginning.
Connecting your Shopify store to a different Gooten account
Select the "Log Out: YourStoreName" button on the top right and connect it to the different Gooten account to your liking. Note that this action removes all of your store's products and data from our database and cannot be undone. However, the products will remain in your Shopify store admin account. Your products will no longer be available in the Product Hub but you will always be able to sync them to our SKUs again.
If you log out of your Shopify store in your Gooten account, none of your products will be affected! They will still be available in the Hub and remain connected to Gooten so they can be fulfilled once your customer places an order.