Connect my Etsy store
Connecting your store with us is quick and easy, following the steps below:
Log into your Gooten account
Go to the Product Hub
Click on the Etsy button
Add your store name and hit Connect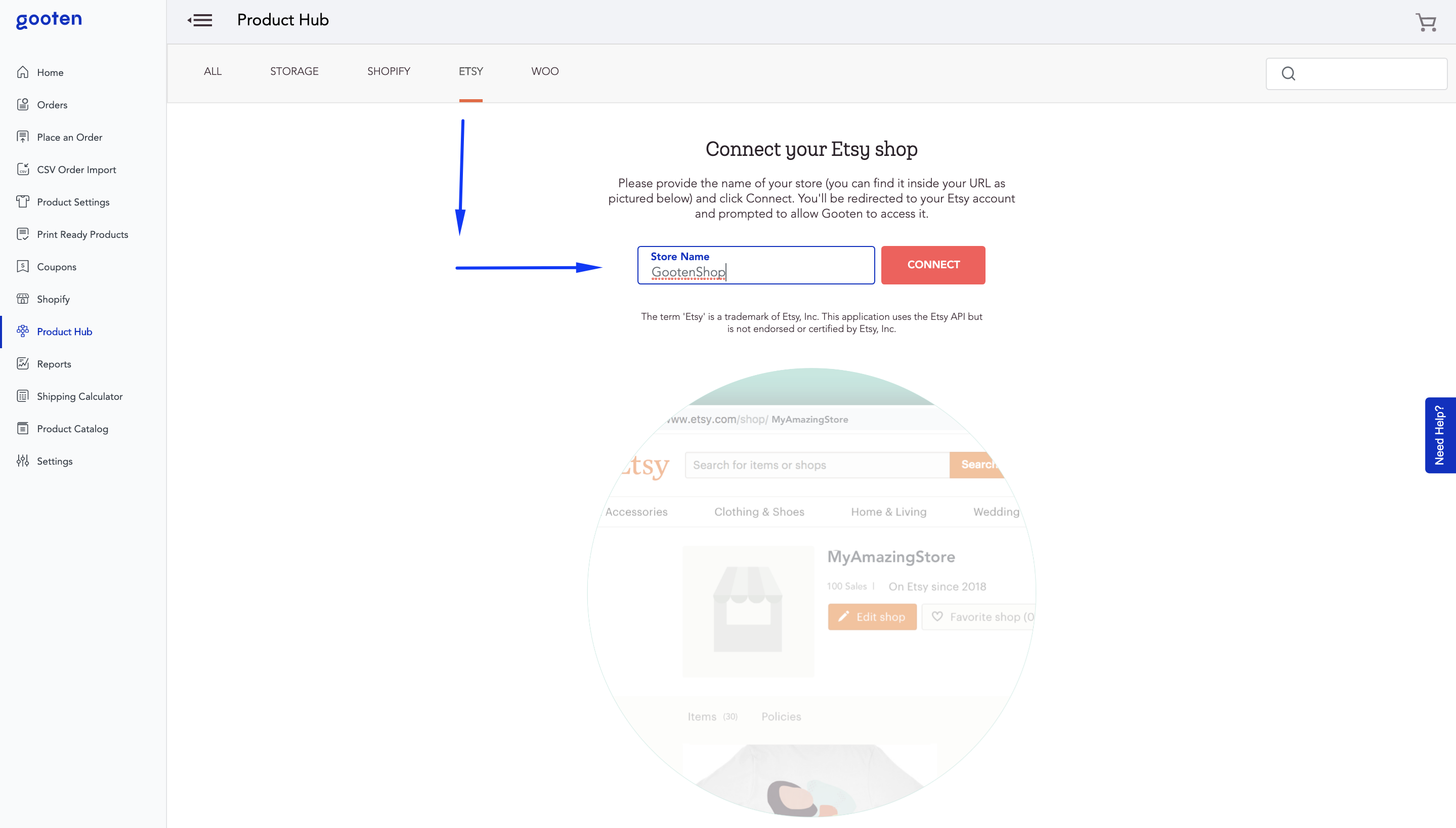 In case you want to connect an additional Etsy store, click on the Add Store button on the left-hand side of the screen and repeat the process, and you can add as many stores as you'd like. Please note that you cannot connect one Etsy store to multiple Gooten accounts.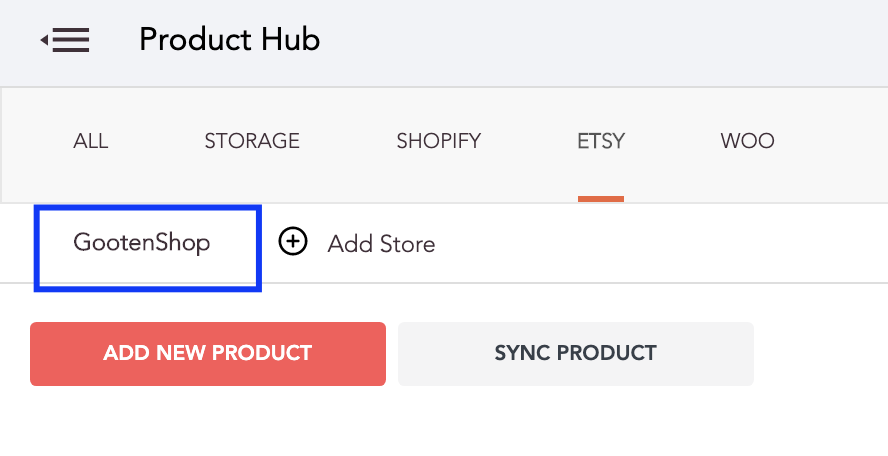 Additionally, please check out a short video tutorial about connecting your Etsy store below:
Create new products
Creating new products is easy! Open the Product Hub and click on the Etsy tab. Use the Add New Product button to create a new product and publish it on Etsy. We have recorded a brief video tutorial of this process:
Once you save your product, it will appear in your Etsy admin within seconds. In case you need to make any changes before publishing the product, make sure that you have the Push to store as draft option checked on the Save and Publish page before Saving the product.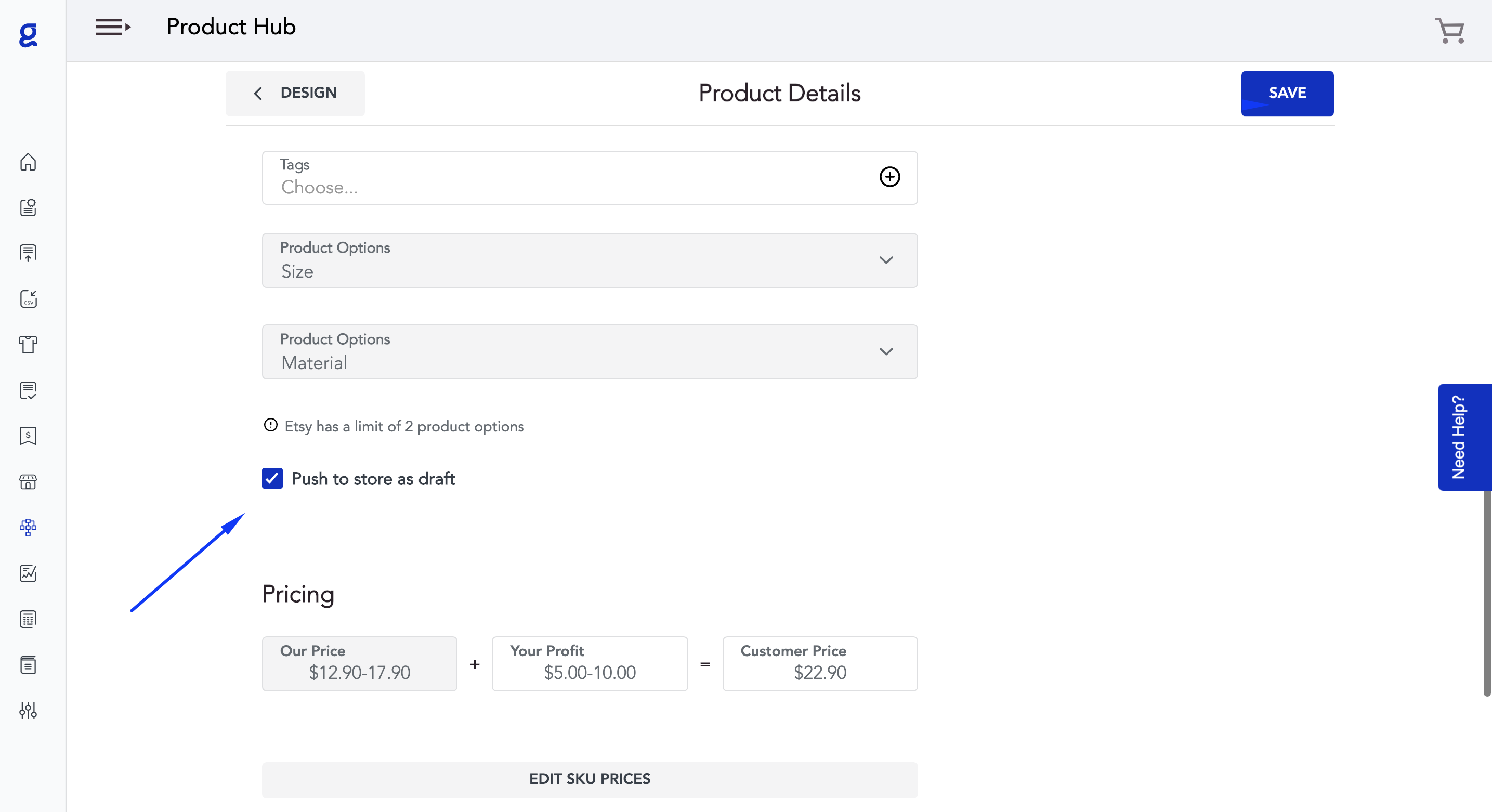 Sync existing listings
If you already have some products in your Etsy store and you wish to sync them to Gooten, open the Etsy tab in your Product Hub and click on the Sync Product button. This action will take you to the product selection page, where you can choose which of the SKUs you wish to connect to each of the variants of your listing. For further instructions, please check this tutorial:
Note that it's not mandatory to connect all of the variants right away. If you wish to skip any of them, click on the Skip option: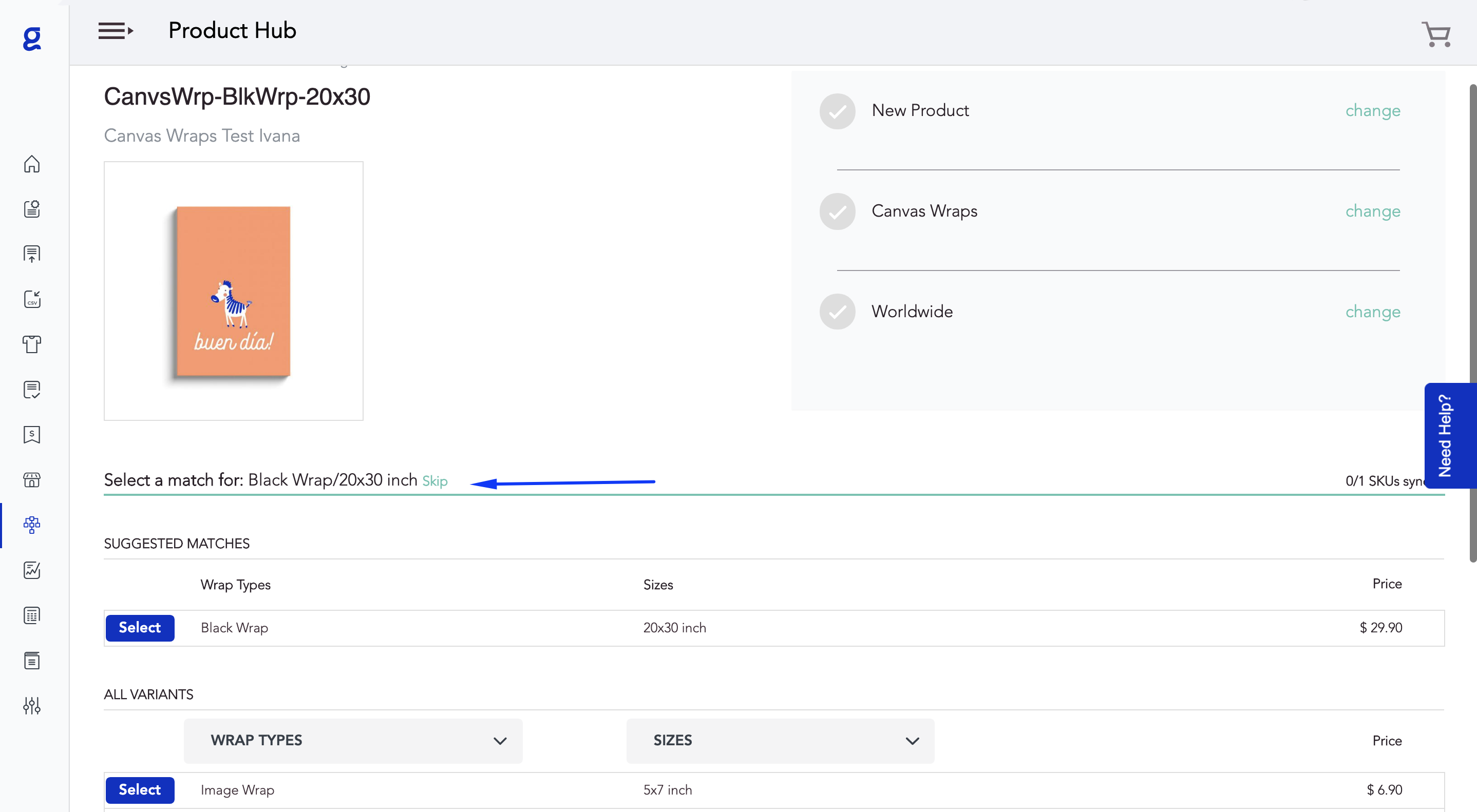 Edit Products - Gooten vs. Etsy
Product Hub
In the Product Hub, you can change the name of the product listed in your Etsy store, its description, type, collection, and tags. You can also edit product prices within the Hub!
If you've published a product to your Etsy store and would like to make it unavailable for ordering, you can simply select the product and click Unpublish.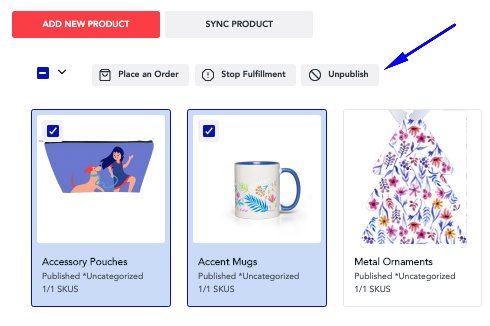 Additionally, while editing, you can adjust the image in any way or you can add a new image altogether. The design page is all yours. However, please note that you can't delete or add SKUs.
Scenarios when Etsy products are disconnecting from Gooten
You may notice that your products from your Etsy store are disconnecting with Gooten after making product changes in your Etsy Shop Manager. Below are some scenarios to keep in mind when making product changes in your Etsy Shop Manager that may or may not cause your product to disconnect.
Products in your Etsy store may lose their connection with Gooten if the options for your variants are changed (added/removed) in your Etsy Shop Manager.
Etsy variants depend on their options - if you add or remove an option within the product, Etsy's backend will create a new variant ID. The variant ID that was previously connected to your product will no longer be valid and the connection between Gooten and your Etsy listing will be lost. The product will also be removed from your Product Hub, but you may use the Link Etsy Product button to connect it again and resurface the product in the Hub.
Please note that your products will be disconnected in the following scenarios:
If you add a new option for the product variants in your Etsy Shop Manager
If you remove an option from your listing's variants in your Etsy Shop Manager.
Please note that even if you remove an option and add it again with the same name, the listing will remain disconnected
If after creating and connecting the listing to us, you click on "I offer more than one" option in "Capacity", Etsy will save it as a new option for the product variant, thus disconnecting the product entirely from Gooten. If you don't want to make the change, you can deselect "I offer more than one" and no updates will be made. Please see the screenshot below for a more detailed explanation:

Your products will not be disconnected if you:
Update the name of an existing option in a product in Etsy Shop Manager (without removing or adding a new option)
Add a new variant to a product in your Etsy Shop Manager (the newly added variant will be created, but not connected to us, you can connect it by going to the Product Hub, Etsy tab and clicking on Sync Product button to connect it)
Update shipping options, Product title, images, description, category, renewal options, other optional product info, section, tags, materials, production partners, SKU names, quantity or prices for the product variants in Etsy Shop Manager.
Pricing and payment
Once a customer places the order through your Etsy store, you'll receive direct payment from them into the payment method that is connected to your store.
When the order is processed, Gooten will charge only the cost of the order (item cost + shipping cost) to your card on file/Paypal account.
Learn more about how payment works with Gooten here.
You can view pricing for all of our products in our Product Catalog and estimate shipping costs in your Shipping Calculator. The product prices listed in our catalog include the cost of the good + the cost to print your custom design.
For example, you pay us $9.79 for a black Bella 3001 T-shirt with your design printed on the front. You can then sell that product for however much you want! There are no membership or hidden fees for using Gooten.
Set up shipping
Shipping methods and tracking

All orders submitted through our Etsy integration are submitted to Gooten automatically using our standard shipping method, and our shipping templates are automatically allocated. Tracking numbers are sent from Gooten to Etsy; however, please note that at the moment, there are some limitations to the process. As Etsy doesn't allow the order to be partially fulfilled or have multiple tracking numbers submitted, as soon as one item in the order gets the tracking code, the whole order will be marked as completed and shipped on the Etsy end which will send the notification to you and the customer.
We suggest adding a note or a disclaimer on your end so that your customers would be aware that if they ordered more than one item, the products might come in multiple packages.
Shipping prices and templates
Our system will assign flat shipping prices to your Etsy product on the condition that flat shipping is available for the product in question or a non-flat rate price that can be found in the Shipping Calculator. Please note that in the latter case, the shipping price should be double-checked for each US state, as this template will assign the price for the 1st zone only. You may check the shipping price we will charge you and your customers for each product either in the Shipping Calculator or in the flat-rate document.
Shipping templates provided by Gooten have Expedited and Overnight method as well, but in order to enable these options, please navigate to your Etsy Shipping Settings and enable Shipping upgrades and then adjust the methods in Gooten shipping templates.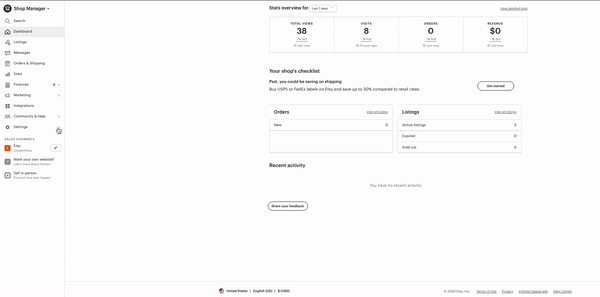 This template will automatically pull our shipping rates. In addition, if you go to Your listing -> Shipping -> Shipping template and click on Edit, you will see the list of all countries and their shipping prices. Once your customer clicks on your product, they will see a shipping price for their country they registered on Etsy. If their country is not listed in our shipping template, upon viewing the listing they will see a notification that the product cannot be shipped to their country. Please note that you can have only one shipping template per Etsy listing, regardless of how many variants you have under it.
Supported shipping destinations
Etsy shipping options usually show only several shipping destinations, not including all of the countries listed in the back-end. In general, if a product in our catalog is available for Worldwide shipping, it can be shipped to almost anywhere, with a few exceptions that can be found here.
Free shipping option
If you decide to offer free shipping you can do so by changing the fixed rate in the Gooten shipping template to the "Free shipping" option, and then build the shipping fee into the retail product price. We suggest that you check our US shipping fees before updating your product pricing and note the shipping cost for each item so that you are not undercharging your customers. Alternatively, you can use Etsy's Smart Pricing Tool which will help with adjusting your item prices to recover shipping.
Carriers
The manufacturing partners in our network use UPS, USPS, FedEx, Royal Mail, DHL, DPD and India Mail. Please note it is not possible to choose the shipping carrier or use your shipping account due to the nature of our business model and relationships with manufacturers.
Tracking
Once the order is dispatched, tracking numbers are sent from Gooten to Etsy; however, please note that at the moment, there are some limitations to the process. As Etsy doesn't allow the order to be partially fulfilled or have multiple tracking numbers submitted, as soon as one item in the order gets the tracking code, the whole order will be marked as completed and shipped on the Etsy end which will send the notification to you and the customer.
Unpublish products and disconnecting my store
Unpublishing all of your products
To unpublish all of your products at once, select all items and click Unpublish. This action will remove the product(s) from your store, so it will not be available for ordering. However, this will not break the connection, and you can easily Publish the product again if needed.
It is also possible to Unpublish only one, or a few of the products by selecting them individually.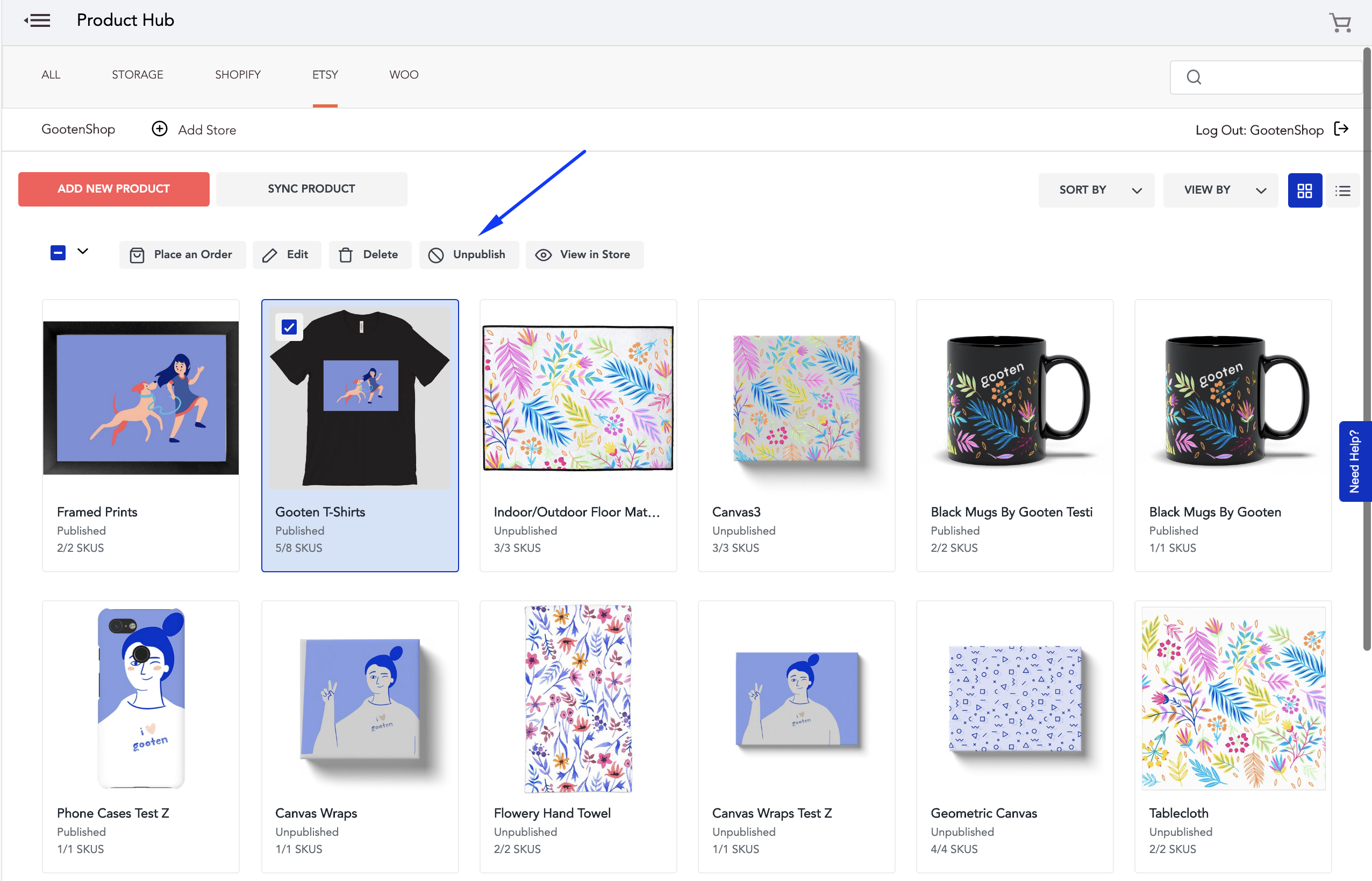 Disconnecting your Etsy store
Select the "Log Out: YourStoreName" button on the top right. If you reconnect your store to the same Gooten account in the future, your current products will automatically repopulate.

Connecting your Etsy store to a different Gooten account
Please reach out to our Partner Support Team. Note that this action removes all of your store's products and data from our database and cannot be undone. Once our team disconnects your store and transfers it to a new account, your products will no longer be available, and you will need to recreate them from the beginning.
If you log out of your Etsy store in your Gooten account, none of your products will be affected! They will still be available in the Hub and remain connected to Gooten so they can be fulfilled once your customer places an order.